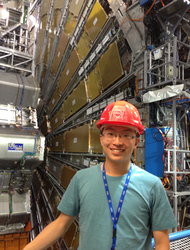 Projects!
SuggestU: A generic idea/tech news/wisdom suggestion engine.
TopHacker: A hacker social network, and build the hottest tech spot + incubator in China to work with the best hackers, support hackers and their projects!
Working with SciStarter, the best Citizen Science project hub, to build a better world with more awareness on science from everybody
Graphpeida: a wikipedia search and graphViz tool
New Dictionary: Link semantics to vocabulary and phrases in Chinese and English.
CERN Webfest 2013: Bring Science to the modern Web! 83 participants and 12 successful projects.
DiningWithMe: Sometimes a random encounter can create beautiful connections in the world.
Particle Clicker: Awesome & pround winner team of CERN Webfest 2014, addictive game to teach particle physics and how HEP labs work! Tons of players online! (First week >50k unique users)
More
A list of documents and links!
More